52% are going to invest more than $10,000 in precision technology in 2009.
Even in uncertain economic times, people are spending money on technology, because they can see the effect on the bottom line. As I have said many times before, the money spent on technology will pay for itself.
The other real striking thing to me in this survey was the adoption rate of the different technologies, and how fast the take rate is climbing. Autosteer was considered a luxury just a few years ago, but now we are seeing them pop up all over the place. When looking at new machinery, its getting hard to find something that doesn't have the option of an auto steer system.
That is pretty clear by the steep growth of this technology in the past year.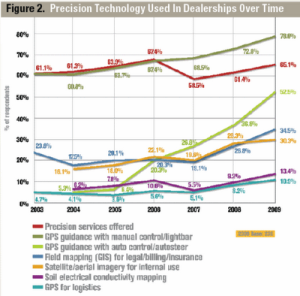 Lightbars or manual guidance are also still on the climb, with a very high take rate among those surveyed.
All in all, this shows just how important technology is to agriculture today, and that doesn't look to change anytime soon.
If you have any questions about what the next investment in technlogy should be, talk to a professional in the industry. If you don't know one in your area, contact me. There are several ways to increase efficiency and profits using technology, and now is the time to get a competitive edge in your operation.
You can read more about this survey at http://www.croplife.com/clmag/?storyid=1827